Our partners come from many disciplines and include public agencies, private businesses, schools, and more! Our common goal is to give children more opportunities outdoors. 
We would love to have you join us as a partner! If you are interested in attending an Executive Committee meeting, please contact us! 
Partners are asked to do the following:
Share MVLNCI information with your contacts
Participate in our Summits, Education Sessions, and Networking Events as you are able
Keep your agency's information up to date in our database annually.
Partners can become more involved by: 
Offering workshops and educational programming at our events
Assisting with events
Joining the Executive Committee 
Chair Projects
Send your event info to MVLNCI for advertisement to our Partners
  Fill Out This Survey to Become A Partner! Agencies only. We are no longer accepting individuals.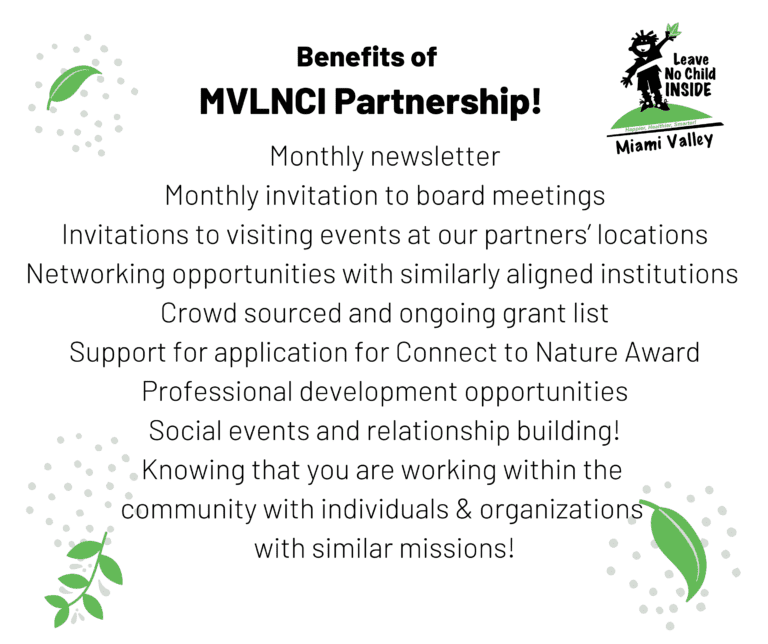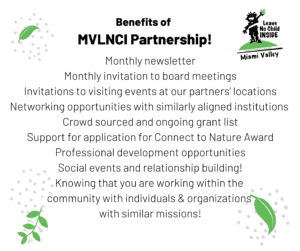 Executive Committee
Doug Horvath, Five Rivers MetroParks
Cinda Hanbuch-Pinkerton, Miami County Park District
Diane Acton Johnson, Miami Valley Child Development Centers 
Katy Lucas, Centerville-Washington Park District
Abbey Pettiford, Dayton Children's Hospital
Meredith L. Florkey, Ohio Naturally
The MVLNCI collaborative engages and empowers our community to make time and create access for outdoor exploration, play and learning.
Contact us at miamivalleylnci@gmail.com