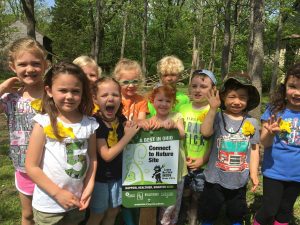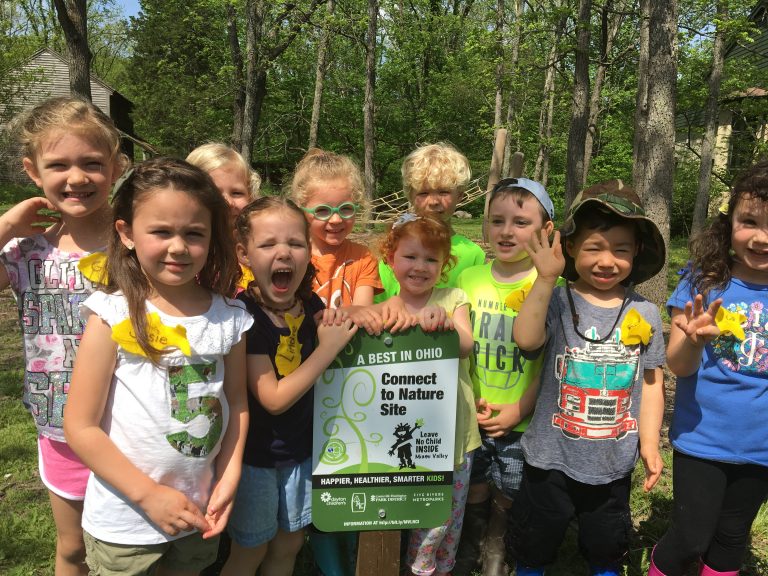 Connect to Nature Site/School Award
Thank you for accepting the challenge to be a "Best in Ohio" Connect to Nature School/Site! Your efforts help our children to become healthier, happier, and smarter!
Nominate a School/Community Site/Business
Become recognized for the good work your agency is doing to connect children to nature!  Our next recognition event will be on March 30th during our MVLNCI Summit.  Submit your application by March1st for consideration.
The links will allow you to find out more about the award nomination and submit a school or site location for the award. Those that qualify will receive a window decal to display proudly at their agency and possibly other recognitions and publicity
Schools that receive the award can request an assembly-style presentation for their students!
Images of our first assembly:
This new award certification will be in a pilot phase through 2018 so If you have concerns over accomplishing the required criteria we welcome your questions. Please contact:
Cinda Hanbuch-Pinkerton 937-478-1036, cindahp@miamicountyparks.com
or Douglas Horvath at Five Rivers MetroParks, 937 277-4835, dhorvath@metroparks.org
Award Recipients:
Awarded Spring, 2018
Five Rivers MetroParks: Carriage Hill
Five Rivers MetroParks: Eastwood
Five Rivers MetroParks: Wegerzyn Gardens
Five Rivers MetroParks: Wesleyan  
Miami County Park District: Lost Creek Preserve
Miracle Makers: Lincoln Hill Gardens Site
Award Ceremony for Spring 2018 at the MVLNCI Summit!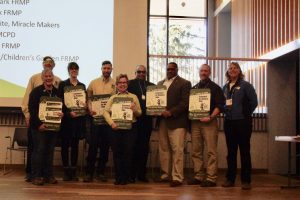 Awarded Fall, 2017
Piqua Central Intermediate School
Centerville Primary Village South
Learning Tree Farm Nature Preschool
Nicholas Residential Treatment Center (Montgomery County)
Centerville-Washington Park District: Bill Yeck Park
Bombeck Family Learning Center
Five Rivers MetroParks: Cox Arboretum
Five Rivers MetroParks: Adventure Central
Five Rivers MetroParks: Germantown
Five Rivers MetroParks: Hills and Dales
Five Rivers MetroParks: Sugarcreek
Five Rivers MetroParks: Possum Creek
Award Ceremonies Fall, 2017
Our second awards ceremony was held at Adventure Central in Dayton. Piqua Central Intermediate School and Primary Village South had their own special celebrations!
Awarded April 10th, 2017:
Spring Creek Elementary School
Little Hearts Daycare
Five Rivers MetroParks: Englewood MetroPark
Miami County Park District: Stillwater Prairie Reserve
Darke County Park District: Shawnee Prairie Preserve
Centerville-Washington Park District: Grant Park
Contact us at miamivalleylnci@gmail.com